As I reported yesterday, the New York Red Bulls were dealt some blows with injuries to Tim Cahill, Richard Eckersley, and Kosuke Kimura. Due to the injuries, and the fact that Montreal's Olympic Stadium uses turf, we can expect to see Thierry Henry & Jamison Olave to also miss the match on Saturday. That means 4 starters from the Chivas game won't be in the lineup, and Mike Petke will have to find suitable replacements for them.
Attack
Bradley Wright-Phillips will obviously be called on to start in a forward positon, but, assuming Petke stays with 2 up top, who will partner with him? Peguy Luyindula would be a natural choice since that's what he played before joining NY, however he better suits this team as a Central Attacking Midfielder (CAM). The only other forward currently on the roster is Andre Akpan. Akpan only appeared for NY seven times last year, but did light it up in the reserve league with 10 goals. While Akpan would be a natural choice, I see Petke leaving Akpan on the bench as a sub, to use in case of needing to take off Wright-Phillips or bolster the attack. This means we should see Luyindula up top with Wright-Phillipsd.
Midfield
Petke doesn't need to really change the midfield due to the lack of injuries at the position, but if he stays with 2 up top, then you would expect Luyindula to move up, leaving an spot at the CAM role. The smart money would be that Petke would try Eric Alexander again in the center midfield, but I really hope it doesn't happen. I would prefer a player like Ruben Bover or Marius Obekop to get a start in this game. Petke had made comments after the Chivas match that he was going to look at the reserves and shake things up. Here's a perfect opportunity to do so. Also never count out a Connor Lade appearance as he can play in the midfield as well. The biggest issue for me is the continued use of Bobby Convey, who brings less to the table than Jonny Steele. Petke should put Steele back into the lineup on the wing, a position Steele owned last year.
Defense
If Kimura (word is he's good to go) can't play against the Montreal Impact, New York may see the MLS debut of 2014 draft pick Chris Duval, or the use of one time starter Connor Lade, albeit out of his natural Left Back position. The absence of Olave will facilitate Ibrahim Sekagya being placed in the lineup next to Armando Lozano Sanchez aka "Armando", just like opening day in Vancouver.
Formations & Lineups

Now, not only does Petke have to worry about the players who will be called upon, but what shape will he go with. Will he stay with the 4-4-2 he's used since early last season? Will he deploy a more defensive shape given the injuries/absences of attacking players? Here's a few ideas I have put together.
Option 1: 4-4-2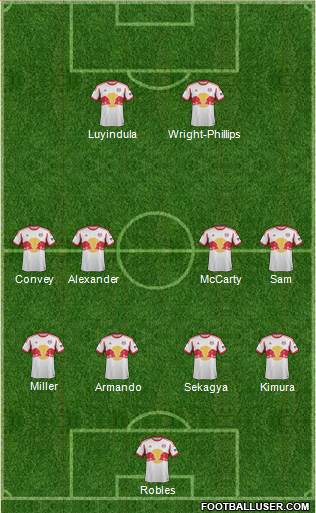 I think this formation & lineup is the one that Petke will probably go with. He keeps the regulars (except Lyuindula) who are healthy in their positions and just fills in the gaps. It's a steady lineup in terms of following the strategy employed thus far by Petke.
Option 2: 4-2-3-1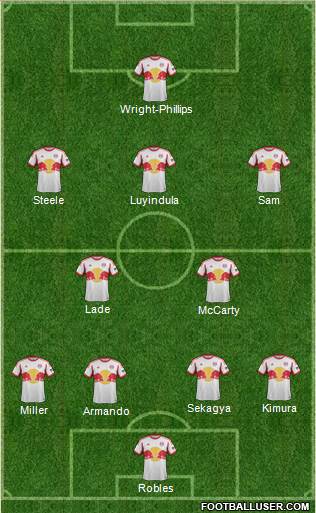 In this formation, I swap out Bobby Convey for Connor Lade, who is also a Defender/Midfielder. He gives up a little size (5'7" to Convey's 5'9" ), but has more speed than Convey, which would allow him to get back and help the defense with Marco Di Vaio. McCarty is also dropped back for the same purpose (minus the speed) as I don't trust this back four by itself against a speedy Montreal attack. Additionally, I've left Wright-Phillips as a lone striker as Luyindula's best role for this team is a CAM. Wright-Phillips and Sam seemed to have good chemistry with Sam finding the forward in the box a few times against Chivas. It seems like Wright-Phillips can play the striker role when needed, and with Henry & Cahill out, this is a good opportunity to use him that way. Lastly, I feel that this formation would help New York to keep longer spells of possession since you won't have flat lines of 4. It'll allow for a little more dynamic play, and can help hide some of the ball control issues NY has had thus far.
Option 3: 4-1-4-1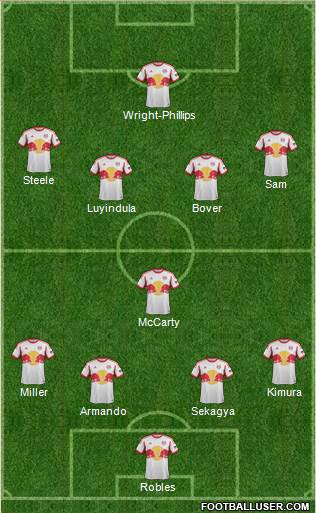 In the last formation I've come up with, I swap Lade for Ruben Bover. Bover is more of an attacking option, and showed well in preseason, even scoring a goal against Montreal when they met in the Disney Pro Soccer Classic. McCarty drops back in this formation to play more of an enforcer role in front of Armando & Sekagya. While this isn't the type of play we're accustomed to seeing from him, his form has been off this year, and I think a change of pace might help him get back into the swing of things. He doesn't need to worry about covering the whole width of the field either as Roy Miller & Kimura can move up if need be.
I'm interested to see what Petke puts on the field in Montreal, and if Armando can stay out of trouble. What do you think of my formations for the Montreal match? Do you think the Red Bulls could go in a different direction? Let us know in the comments, and feel free to suggest your own formations.