Sky Blue came in looking to improve on a down year in 2014 where they missed the play-offs by a single point. In their first test they got saddled with the task of taking on defending champions FC Kansas City. The team had the tough prospect of stopping Amy Rodriguez who last year finished 2nd in the NWSL Golden Boot race and the 2013 League MVP and 2013 Golden Boot winner Lauren Holiday. The task was complicated by the absence of Australian internationals Samantha Kerr and Caitlin Foord along with Mexican forward Mariano Ocampo.
Formation
When Sky Blue's line up was announced, there was a big question of who would play where or if Sky Blue were playing three in the back. The team in fact played in what looked like a 4-2-3-1 with the ball. Maya Hayes got forward as Nadim tended to shift to the left. Kelley O'Hara and Meg Morris often switched back and forth on the left wing. Defensively the team shifted into a 4-4-1-1/4-4-2. Katy Freels pushed high while O'Hara and Maya Hayes dropped into the midfield block of 4. The team didn't press high into their block, however as FCKC would push into the final third, Sky Blue would selectively swarm the ball.
FCKC played in a standard 4-2-3-1. Left midfielder Erika Tymrak shifted inside and was often playing more as a central attacking midfielder next to Holiday than a wide midfielder. That gave Robinson room to venture forward from the left back position. On the other side O'Reilly stayed wider. The team tried to keep Nadim on an island but Freels and Hayes did a good job finding space behind Robinson once FCKC collapsed on Nadim. The team switched to more of a 4-4-2 when they brought on Sara Hagen looking to find the equalizer.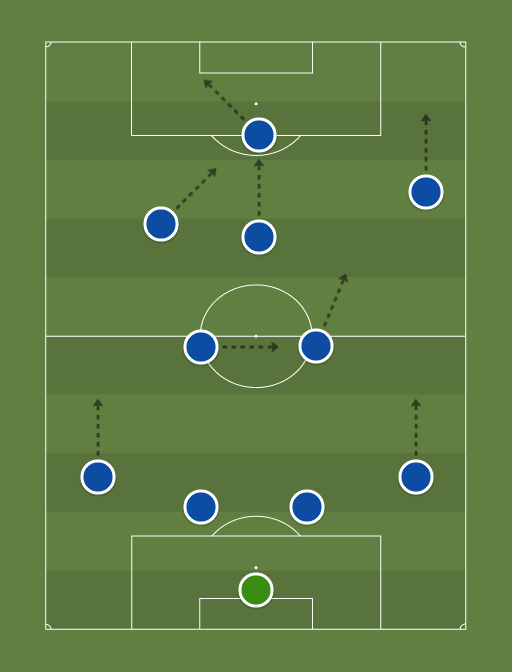 Nadia Nadim and Team pick up from where they left off
This game may have been the first game of the season, but it easily could've been a game from end of last year. Sky Blue picked up their 6th straight win, equaling a franchise record as Nadia Nadim turned in a goal from a crazy angle. She continues score goals for Sky Blue, picking up exactly where she left off. The team also continued their preseason form, posting another shut out. The impressive thing about Sky Blue was how they limited FCKC's shots. While FCKC took a whopping 15 shots compared to Sky Blue's 5, they only had two shots more on target (6 to 4). This is because the majority of those shots were from long range. The back line did a good job of keeping the play in front of them. Lindsi Cutshall, projected to be a center back at the beginning of the season, put in a good shift at holding mid and really prevented FCKC from creating space at the top of the box.
Individual Versatility
A very big benefit with Sky Blue's roster is the relative flexibility of the team. O'Hara and Morris switched positions often as they both contributed defensively and offensively and made sure that O'Reilly was always covered. The positional switch allowed them to keep the danger side of FCKC relatively quiet. Cutshall also stepped up and did a great job of clogging the middle and not allowing FCKC to get space at the top of the box. Last year Cutshall played more at center back, but her positioning and work rate was impressive as she worked hard offensively and defensively. She was good outlet pass when the team tried to possess offensively but was strong in her primarily defensively role as well. This was more impressive with the way that FCKC tried to overload the box. With Tymrak shifting inside, Grubka, Rampone, and Cutshall had to stay organized and disciplined and rose to the task due to their strong organization and versatility.
Rookies Step Up
A big question mark coming into the game was how the team's highly touted rookies would perform. Sky Blue started both of their first two round picks, Killion at central midfield and Grubka at centerback. Both players excelled against one of the NWSL's better teams while working hard and both looked comfortable on the ball. They were both definitely important pieces of the team's offseason plan to improve and to try to continue their momentum from last year. Its even more impressive when you see that they were brought in to replace two very solid and highly touted veterans, Ashley Nick in the midfield and Coco Goodson on the back line. Both showed high upside and look like they will do the team well.
Odds and Ends
Due to the high number of players missing due for pre-World Cup obligations, Sky Blue only carried 4 subs into this match; 3 outfield players, and 1 goalie.

Kelley O'Hara had two mix-ups in the match. The first came after a hard tackle on Becca Moros; O'Hara was seen jawing with Moros after the FC KC player confronted her. During the postgame handshakes, O'Hara and Amy Rodriguez could be seen "chatting" as well.

Sky Blue will open return home this Saturday, April 18th as they take on the Houston Dash who beat the Washington Spirit 2-0.
Any other thoughts on the game? Comment below or tweet @Huanandonly with thoughts, comments, or words of encouragement. Keep following Once a Metro and be sure to follow @Once_a_Metro on twitter and like our Facebook page.
You can write into the Once a Metro Mailbag (oamsoccer@gmail.com) and share your thoughts and questions about this or anything New York Red Bulls, New York Red Bulls II, or Sky Blue FC.